Shippers beware: oil refineries are starting to eradicate stockpiles of sulfur-rich fuel that powers the merchant fleet in anticipation of a demand collapse in fewer than 18 months.
Stockpiles have slumped in the U.S. and Singapore this year and traders directly involved in buying and selling the fuel say some refineries already started to trim output in anticipation of rules that will severely restrict consumption from Jan. 1, 2020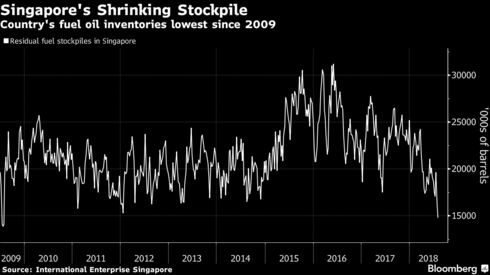 The draw-down underscores a tricky balancing act for an oil market facing a once-in-a-generation shift in the kind of fuel it must supply. Refineries need to cut back on output before demand collapses at the start of 2020, but if they do so faster than consumption slides, then fuel-price volatility could increase. The market is currently trading in what's known as backwardation, where immediate prices are higher than later ones — a structure that can punish traders who store.
"It's literally the perfect storm," Nevyn Nah, a Singapore-based analyst at Energy Aspects, said of diminishing stockpiles. "Any fuel oil blender whose lease / storage lease is going to expire now will not be renewing it because of the backwardation." That will limit the industry's ability to produce suitable marine fuel, he said.
Read the full article here